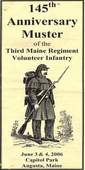 ---
Visit the 3rd Maine Website
3rd Maine Volunteer Infantry, Co. A
The Third Maine was the first three-year regiment organized by the State of Maine during the Civil War.  It was known as the "Kennebec Regiment" as it was formed from towns up and down the Kennebec River valley; two companies from Bath, two companies from Waterville, and one each from Gardinger, Hallowell, Skowhegan and Winthrop.  Two additional companies of men were assembled from Augusta.
The Third Maine assembled in Capitol Park (known as "The State Grounds" at that time) from the middle of May 1861 until June 5, 1861 when they left for Washington D.C.  The provisional camp was named Camp Hamlin after Hannibal Hamlin, Maine native and Lincoln's Vice President.
Under the command of Colonel Oliver Otis Howard, the Third Maine was the first of Maine's regiments to form in Augusta, so it generated a lot of excitement in the city.  Governor Washburn in a letter to his brother written that May states, "The war feeling here is perfectly fabulous.  There never was anything like it."
During its stay in Camp Hamlin the Third Maine was organized into a regiment learning about life in the military.  On June the 4th, 1861 the men of the Third Maine were sworn into federal service for a term of three years.  The next day the regiment paraded to the train station and embarked on their journey south.